Vacuum Deaerators

Optimised designs are a compromise between the deaerator tower size and vacuum pump size. Selection of the most appropriate random packing using the latest designs available is supported by computer modelling of the range of process conditions to be achieved.
Selection of the most appropriate random packing ensures the highest mass transfer rates while minimising foam development within the process section. The low-energy inlet distributors and interstage re-distributors ensure maximum effectiveness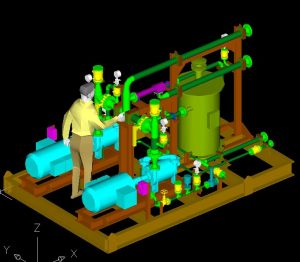 2 x 100% Liquid ring vacuum pumps are employed to remove the liberated gases with the water vapour from the process stream.
Very low operating pressures are created within the tower, with the first stage operating down to aound 0.08 bara and the second or third stages down to less than 0.03 bara.
The lower pressures are developed by specific air ejectors which use a stream of atmospheric air drawn into the pump to generate the lower pressures using Bernoulli's Principle of reduced pressures being created by increased velocities of a stream.
Seal water is provided on a once-through basis to reduce the pump operating temperature as these designs operate more efficiently at lower pressures.
Gas stripping as a process mechanism is also provided, either as the sole means of deaeration or as an optional mode of operation.
Effective internal designs ensure good distribution and redistribution to maximise the mass transfer of oxygen from the liquid phase to the gas phase, combined with effective oxygen scavenger distribution across the residence section which feeds the low suction pressure booster pumps.